Interests
My greatest passion is for spiritual things. I study the Bible and try to put its principals into practice in my life. You could call me a disciple of Jesus. Though I don't believe in the mass merchandizing of Christianity, I am glad to share my beliefs (as well as my life) with anyone who's interested. If you'd like to study the Bible, or to respectfully discuss any other topic, we should talk (via email, that is).
Some of my other interests include science fiction (particularly the TV show Babylon 5), space exploration, music of all types, especially a cappella, art, baseball, theater, mountain biking, hiking (one of my favorite destinations is Point Reyes -- take a look at the wildlife you can see there!), travel and humor.
Jobs&nbsp(LinkedIn profile)

I am currently working at Pivotal Software. My previous job was at Autodesk. Before that I worked at Genentech for 12 years. Some earlier experiences were at Corio, (now part of IBM), and Totality Corporation in San Francisco, California (now part of Verizon Business). My first full-time job in I.T. was with Oracle Corporation, which was/is a great place to learn cutting edge internet technologies.

My job before that was at UCSF, started out as a combination of word processing and computer graphics tasks for the Division of Biostatistics. Because I have a penchant for opening things up to see how they work, I became a P.C./ technician and connectivity specialist, not just for the Division, but for the entire Department of Epidemiology and Biostatistics.

That department hosts the WWW Virtual Library's Subject Page on Epidemiology. Together with Steve Shiboski, I used to maintain that page. In addition, I learned about Linux there.

I used to work one night a week for RadioMail (their website seems to have disappeared -- anyone know what happened to them?) monitoring their network as a UNIX Systems Administrator.
Origins
I was born in Southern California, spent my childhood in Riverside and my adolescent years in Ridgecrest (a tiny town in the Mojave Desert with a surprisingly cool web page).
After high school I headed for northern California, where I attended the University of California in the charming little town of Davis. When I enrolled, I intended to become a veterinarian, but I ended up with a degree in Russian Language. I moved to the San Francisco Bay Area in order to pursue a closer relationship with God and with some other Christians I had met here.
Eccentricities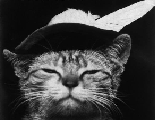 Though I never became a veterinarian, I am a veteran of the Mouse Wars. In my San Francisco flat, I earned many titles: The Big Ragu (for my love of pasta -- but my hispanic heritage has instilled in me a love of burritos also), Tosser of Things onto High Shelves, and Slayer of Mice (a role forced upon me by cruel fate). If only more landlords were enlightened enough to allow cats, we would not have to intervene to maintain a proper balance between rodents and humans.